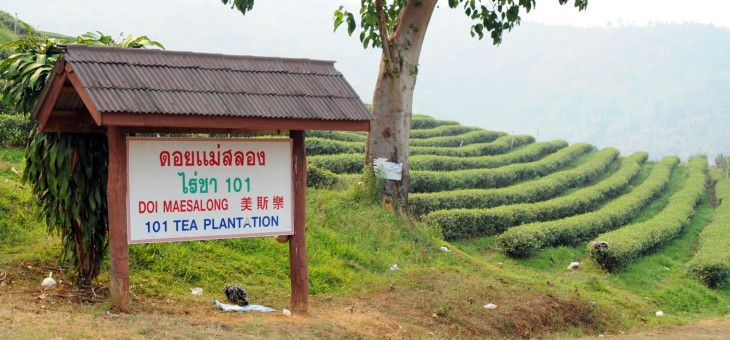 Northern Thailand is tea producing area. North of Chiang Rai you can see the scenic scenery of tea plantations that have been planted here in the recent past. (In 2003).

Maesalong is the spot where you can find best Oolong teas in Thailand produced by Taiwanese method.

Easy way how to get to Maesalong is rent a bike in Mae Sai, drive south and make a righ to Choui Fong Tea Plantation.

The way of growing tea is significantly reminiscent of traditions coming from Taiwan. Shrubs are mechanically pruned and irrigated.

For the highest quality species, manual plucking of tea leaves is used.

Shading is an innovative method originating in Japan.

The first step in the processing process is the withering in roofed halls.

The processing of Oolong tea leaves is fully mechanized. Leaves are repeatedly rolled in special rotary presses and then aerated in rotating drums.

Sufficiently dried teas are vacuum packed in small bags to maintain their quality.