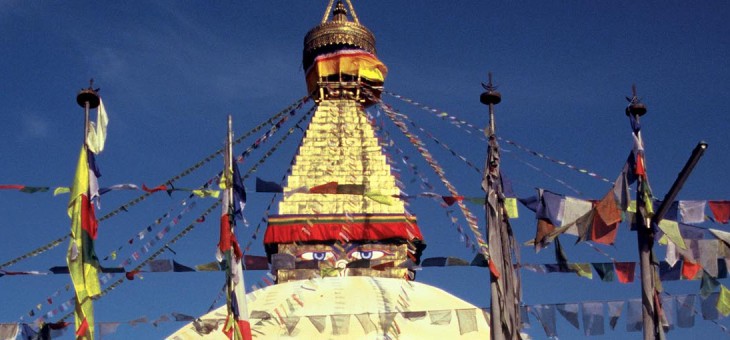 Fear unfounded, yet fulfilled
I have been travelling to Asia once a year for many years now. India alone I have visited four times. In fact once back in 1995 I even secretly crossed the Nepal border during my first trek along the mountain ridge between the Sandakphu and Phalut peaks in the Darjeeling region. But Nepal itself remained a mysterious, unexplored country to me. I don't know what repeatedly delayed my decision to set out on the trail of Nepal tea. In the spring of 2003 I ultimately decided to journey to the country and try to map the tea production of the Kingdom of Nepal.
I also planned my trip's route to include a short stop in northern India. I decided that I would go there all by myself. This was not at all an unusual decision; I had already spent several months unaccompanied in southern India, Sri Lanka and Sumatra.  So I knew what I was getting myself into. What I didn't suspect, however, was how the circumstances would develop in the places I was heading to or the adversity I was to encounter.
It is worth mentioning, right at the outset, that I fell madly in love with India right during my first visit in 1995. I have visited it again twice since the events described below, and I trust there will be more visits to come. India is something like a drug. When the fates smile down on you it can be an unbelievable, even mystical experience. But when they turn against you it could, in the worst case, cost you your life.
I would also like to apologise to the thousands of polite, peaceful and godly Indians that every visitor to India meets on their trip. I do not talk about them in the text that follows. I am, however, well aware of their existence.
I only wanted to spend a few days in the capital city of Delhi and didn't really expect any surprises since I had already been here and had walked (literally) the width and breadth of the entire city. I had a meeting arranged here with a family of local entrepreneurs who were interested in the idea of opening a Dobrá čajovna. Some of the family members who had worked in the tea industry in the southern tea-growing region of Nilgiri asked me if I would take a look at a few selected locations in the centre and let them know my opinion. They were interested to know whether our type of tearoom could make it on the local rapidly developing market of services. And so the main point of the program was a meeting with representatives of the rich social class of Indians.
But all that was to be preceded by a kind of "baptism" by India. Probably so that I would thoroughly realise that the idea of doing business on the Indian subcontinent is not an easy prospect.
I flew into Delhi early, sometime between 3 and 4 o'clock in the morning, and, almost inevitably, I became a victim of the taxi mafia. Even though I knew the name of the hotel that I wanted to go to and, like a seasoned traveller, I paid for a voucher at the airport to take me there right from the airport and even though it should have been enough to give the taxi driver this voucher, I ended up somewhere else entirely. Right after departing from the airport the driver picked up two local types and they started playing a game with me. I learned that the hotel I was going to was under reconstruction and was not taking guests. The other hotel I drew their attention to was allegedly full because it is the time of trade fairs and there are an unusually lot of businessmen in town. But I was allegedly in luck because I had happened to run into them. But by that time we were somewhere on the very edge of the city, where there were no streetlights, and we pulled into a dark courtyard. Some kind of armed guard closed the gate behind us and I got the feeling I was in trouble. A dark figure opened the trunk of the taxi and I was without my luggage. A brown bloke peered at me with red-rimmed eyes in the poorly-lit reception and from the blood-red liquid spittle in the corner of the room I understood that he was at least under the influence of the local heavily-used drug named Betel. The price for the room is $50 and I supposedly have to check out early. There was no point in haggling! I curled up inside my own imported sheets on a greasy and sweaty couch and fell asleep. Luckily my suitcase and backpack were already in the room.
But around six o'clock, not even an hour later, I was awoken by an unbelievable racket. Dawn was just slowly starting to break outside. I drew back the curtain and saw that I was accommodated in a building that was slated for destruction. The rear two-thirds of the building no longer existed and half-naked workers were gradually tearing down what was left. They were using sledgehammers, clubs, crowbars and also pneumatic jackhammers. Racket, ruckus, dust, sweat and stench. The air conditioning wasn't working; electricity had already been cut off to the hotel. I went down to the reception in despair. "Bright Wiew Hotel" a derelict sign, covered in the excrement of the intrusive insects, boasted on the wall between dials showing the time in Tokyo and New York. Yes, that view of the construction sight was as bright as day, the name of the hotel was fitting… A completely different person than the one who checked me in during the night was standing in the reception. I asked for an explanation.
Instead of an explanation, however, I learned that it was high time for me to clean out my room. It was apparently "Checking out time!" There was no sense in arguing. It would be best to be leaving. I refused the offer to find me a taxi for fear of it ending up like last night and I relied instead on my own travelling experience. I packed my things and headed out. "I have to get somewhere where there is some sign of life. I can catch something there. Maybe a rickshaw," I said to myself. But it wasn't as easy as that.
There was a swarm of rickshaws around the corner. I noticed that they were dominated by some kind of boss festooned with thick, golden chains who was dictating who was going where. And so I too was assigned a driver and was told the sum for which I would be taken. A sum that made me weak in the knees. It couldn't be helped. I made one futile attempt to approach a random young rickshaw driver that was going by, who stopped and agreed to take me for a tenth of the price. But he got such a slap in the face from the local boss that he decided not to risk his life and took off.
"Okay, then, I'll take it. Let's go," I said and loaded up my bags. "Let's go to the centre to this hotel," I said pointing to the map. "It is this one right next to this large mosque," I elaborated.
"Payment in advance," the boss responded, "and to me!" So I paid the price and found that I had very few "rupees" left in cash. I assumed that I would be able to pay by credit card when I got to the right hotel. We departed and I was not put at ease at all by my view of the driver. I don't know how many metres we went, but it wasn't far, when he stopped all of a sudden and told me that I have to pay extra for the suitcase and the backpack. That he had forgotten about it and would not like to argue with me about it later. And if I don't like it I could get out. "No, we're going! You are not getting me off of this motorbike! And if I am going to pay you anything extra, then maybe when we get there." He was really surprised by my defiance, which had already started to arise from my hopeless state. I knew that I simply had to risk it. During the ride I noticed that the driver was deep in thought.
After about a ten-minute drive we can to some kind of small unkempt park where water from a broken water pipe was spurting from the ground. There was mud everywhere and bits of scorched grass that emaciated sacred cows were grazing on. Tonnes of garbage spread out hundreds of metres in all directions and beyond that, beyond the wall of trees, a minaret poked out. "So there is that mosque and the hotel is right next to it," the rickshaw driver told me as he placed my bags on the ground. "We aren't allowed to go in there, you will have to go on foot," he said, forgetting his surcharge, and with that he was gone.
I gathered the rest of my strength, waded through the garbage and anticipated that the truth would be something else entirely. I stopped at a stand selling fried stuffed balls called samosas and asked where on earth I was. The seller did not understand English and by all indications had not often held a map in his hands in his lifetime. Instead of advice, however, he offered me three samosas wrapped in newspaper and asked for a few coins for them. Why not?
I bit into the first of them, swallowed my first bite and I knew it was going to get even worse.
Every cloud has a silver lining!
I fell into unconsciousness in a few moments in a family-run hotel that I found already half in a trance since my innards were clenched in a stinging pain that, combined with the unbearable heat, jet lag, two nights without sleep and mental exhaustion, caused my organism to totally collapse.
I only awoke in irregular intervals and only in order to evacuate my "burning" stomach and "knotted" intestines, falling back into unconsciousness. I was not troubled at all by the thought that I had caught mononucleosis, hepatitis of all kinds or even typhus, which would have otherwise worried me, since there was no strength left in my exhausted body for them. And so I slept and slept. 36 hours of sleep.
"Life is made up of small minor acts that, though seemingly unimportant, as a result influence our subsequent important life-changing decisions. It is not necessary to think about whether cleaning the table or not will have an influence on things to come. It is necessary to do it. Only in this way can things move forward." – that was my first entry into my travel diary, something I regularly keep on my trips. I don't even know why I grabbed on to that thought and made a record of it. I only know that I was in such bad shape that I couldn't even find the strength to eat a bit. "Now you will get up and go to the bathroom, there you will wash, it is important," I told myself. "And now you will make some tea and eat at least a bit of a biscuit, it is important," I reminded myself compulsorily of my tasks, so that I would return at least a bit back to normal. I couldn't do anything. Everything seemed absolutely hopeless to me. I only want to be prone and sleep.
A tea missionary!
But I didn't have time to sit and "lick my wounds" for long. My program had been agreed upon in advance. It now was only up to me to take full advantage of it. And that's what happened. The following day I was to meet with prospective business partners and plant the seed of the Dobrá čajovna in India. But everything was happening too fast all of a sudden.
They came to pick me up at the hotel (I probably called them sometime the previous day in a state of semi-consciousness combined with lethargy). And oh, what a disgrace. "Come, we shall take you to a better hotel somewhere close to the centre, or better yet, you shall be our guest and stay with us for a few days," was the offer from my potential business colleagues, who had come out in full force in two cars to see me, which meant: four siblings aged from 35-50 with their children and wives. And the eldest brother started talking away with the receptionist. He said I was leaving the hotel, packing up and going to a better place. But the receptionist didn't like the negotiator's slightly arrogant tone and so he countered. "The gentleman has not paid yet and by all appearances does not even have anything to pay with," I overheard. It was true, but it was also a monumental disgrace. I really didn't have enough cash to pay and my credit card wasn't worth the plastic it was made of. "If you have no money, then we shall pay for you," was the offer I received from my potential business partners. At this moment I realised that only I could get into such a situation and it is actually maybe good that I am so ashamed. Often these extreme incidents are decisive in whether businessmen come together or not.
And so I refused the offer, telling them I would stay in the hotel and to let them keep my luggage as a deposit on the price for the accommodations.
And then we got moving.
First up was a visit to a few places around Connaught Place, known as the "Circle," and a tour of spaces said to be suitable for renting. Rates ten times those on Prague's Wenceslaus Square didn't seem high to my potential partners. They did to me! As I later discovered, they understood my offer for cooperation to mean that our side would bear the costs and they would keep the profits. This was followed by a trip through the city in a BMW with a spoiled son, who only talked about money and pronounced the word bucks, the slang expression for American dollars, with immense gusto. He threw half-eaten hamburgers and half-empty packages of cigarettes out the car window. Next on the agenda was lunch in the salon of an opulent restaurant, where the staff became the target of inconsiderate and, moreover, unwarranted attacks by my hosts, and a family celebration at the very end. The main themes were money, the amount of the investment from the Czech side (with an emphasis on zero guarantees on the Indian side) and absolutely no interest in tea. My attempt to show our untraditional method of making and serving tea ran up against a brick wall. The lady of the family decided to end my practical demonstration and tasting so fiercely that in the end the actual tasting was aborted. The staff was ordered to take my paraphernalia to the kitchen and they started to serve vodka…
I fled.
Solitude
I was overcome by a feeling of absolute futility. Maybe I was being oversensitive at the time due to my meeting with the taxi mafia or my poor state of health. "So far the result of my trip has been a huge flop. Broken health and psyche, no prospect of cooperation and tomorrow I am heading off in the direction of Nepal. What else do the fates have in store for me? On the way I have to stop in Agra and take the mandatory photograph of the Taj Mahal. I really don't want to go there," I reflected.
And on top of all that, I discovered on the Internet in town that we lost against Russia in the group match at the World Hockey Championships. Now those are the depths to which I had sunk…
'Last night I was thinking about the meaning of the word "solitude" and especially about the feeling of solitude. I found that it is all around us and there is no escaping it.  Plus a person either has it in his head or he doesn't.  I sure do. I miss my family, my friends, but I am learning to live with it. I have the feeling that the book about Siddhartha by Hermann Hesse could help. I will try to concentrate on reading and will not agitate my mind with anything too intensive such as memories of home. The reading could be the beginning of my new journey…'
Another entry in my travel diary. By this "new journey" I wasn't thinking of my pilgrimage for tea, for the tea business, but mainly a spiritual journey. I was experiencing a very intense feeling at that time that it was necessary, no matter what, to resolve the question of what direction I should be taking. Whether it was silly to "waste" my life chasing after a career, success in business, money, when it could be possible to retire into seclusion and enjoy divine favour. I also realised that a person must have certain responsibilities to his children, wife and loved ones. He can't renounce his responsibilities and dedicate himself fully to a spiritual life with all its enticing endeavours such as meditation, all kinds of spiritual exercises and perhaps even yoga itself, can he? On the journey from India to Nepal I was expecting to "cross that river" and achieve some kind of enlightenment. Thus I was also planning on visiting a village on the border of India and Nepal called Lumbini, the birthplace of the Buddha Sakyamuni. His personal example was, and still is, a great inspiration and challenge to me.
Before my trip I was trying to resolve a huge personal problem. I had the feeling that I was extending too much attention and love to those closest to me. This finding was not that great a difficulty to me in and of itself. The problem was that I did not sufficiently feel that my feelings were fully returned, and this hurt me greatly. I didn't know which way to turn. I was tormented by a feeling of futility. I was afraid that the mistakes that I made in my impotence and blindness, whether to my children, wife or colleagues, could already be irreparable. I wanted to get away from all who were close to me, at least for a while.
And the visit to Kathmandu itself, a pilgrimage site for hundreds of thousands of believers, was to help me in this. "Something just has to happen along the way," I hoped.
But I was still in India. The Bus to Agra departed before noon, so I still had time to go on the Internet and read my emails. There was one there that was still very recent. It was from a woman from the family of businesspeople from Delhi, who were trying to convince me at the last minute of their pure intentions and the excellent opportunity to invest in India. I decided to be strict and to snuff out any senseless anabasis in clear words. "Yes, the project for building a brand tearoom in India is possible. But perhaps it is not yet the right time. I need to think everything over," I began, playing a little for time, as my professional habit commanded. Then I realised that I had wanted to be strict and I permitted the message: "I know that the entire project's success is not only based on the quality of the product we offer, but primarily on the ability of the Indian side to adapt it to the local context. I am afraid that you do not fulfil one basic condition, and that is that you are not interested at all in tea itself." Period. The end. The end of the dream of a Dobrá čajovna in India. At least for now. Definitely.
Thoroughly knocked about by an Indian bus I arrived in Agra after a few stops at small roadhouses and my head was full of information about unrest in the neighbouring Indian state of Punjab. Apparently a Muslim mosque (which of course was built on the site of an original Hindu shrine) was torn down on the government's orders. Both sides immediately started to interpret it as an attack on their independence. Fighting in the streets had already claimed dozens of lives. The Indian army was on alert and was gathering its forces on the border with Pakistan. This suited them to a tee and, as always, was threatening "international aid" for alleged injustices perpetrated on the local Muslim community.
"I am glad I am heading in the opposite direction, it will be peaceful in Agra," I thought to calm myself, not knowing how wrong I was.
I exited the bus and immediately had several rickshaw drivers hanging around my neck, trying to offer me accommodations and transportation to these facilities. I chose one of them and showed him the name of a hotel in my guidebook. He acted like he understood me and away we went. His head was adorned with a white cap, his thick beard was billowing in the wind, giving his words that all hotels only steal these days the proper weight. I noticed that the heads of all the rickshaw drivers were adorned by caps and all had beards. And the taxi drivers, too. With the exception of regular pedestrians everyone who is doing, selling or offering anything follows the teachings of Mohammed.
"But of course, I mean the Taj Mahal is a symbol of the Islamic faith in India, just like Mecca on the Arabian Peninsula or the Blue Mosque in Turkey. The death of Princess Mumtaz Mahal, who died in 1631 while still a child, was the cause of such despair for Shah Jahan, one of the greatest rulers in Islamic history, that he decided to build a mausoleum of unparalleled dimensions. And that naturally had to attract his fellow believers," I mumbled to myself beneath my own beard as I noticed that the hotel that we had pulled up to had a completely different name than the one I was headed for. My luggage immediately disappeared somewhere into the bowels of the hotel, the driver was asking for money and the hotelier was showing me pictures of rooms for me to choose from. Wait a second! I turn to the rickshaw driver and demand an explanation. I learned that throughout the entire trip he was telling me how dangerous it is to stay in unknown hotels and how much better it is to stay with the people he knows. Well, since I didn't protest much, he said, he considered my silence to mean I agreed with the change of plans. What a simple explanation, and how easy to understand!
I got angry and put my foot down. At the same time I felt that my stomach had "something to say" about this new impasse. It was as if the pressure generated on my mental state by the circumstances had also stirred up a physical reaction similar to the one in the capital city of Delhi a few days earlier. I felt sick!
The hotelier, seeing my persistence, ultimately gives the word and my luggage is loaded back on to the three-wheeler. He asked the driver where we were headed and laughed: "That hotel is under reconstruction and not taking guests. Ha ha ha."
"I have heard that song before, you can't trick me you bandits!" I thought proudly while remembering my recent experience. Of course the hotel in Delhi I was originally heading for was not under reconstruction, nor was there any trade fair being held in the city. These were all just simple tricks. "Let's go!
At the very moment when the rickshaw stopped its car in front of a building girded by scaffolding made of bamboo poles, my stomach gave up the fight. Thus the receptionist was able to get to know its contents right on a marble staircase installed a few scant hours before. He was kind enough to offer me accommodations in the subbasement rooms that were already available. Construction was going on above them, however. But that is normal here. I accepted his generous offer. It was only for one night, after all.
Don't get too full of yourself
It is awfully stuffy in the room, which has a single solitary little window under the ceiling. I feel sick and am shivering; I have to get out of here. "I can't stay here. I have to get out. I will take a walk to the Taj Mahal. It is just a short way across the park. And I am not going to drag my camera around. Tomorrow is another day," I say to myself and head off in the direction of the "building of dreams."  But not alone! The moment I left the hotel grounds I was joined by an old man with a bike and he offered to take me for part of the way through the park to the palace. I didn't want to talk to anyone or ride a bike. I wanted a nice and quiet walk, and not another battle. I gave the old man the price he was asking to take me, but refused the ride itself. I figured that would take care of it – that I would get rid of him. It didn't help, quite the contrary! With this gesture I attracted all the cycle rickshaw drivers within a large radius along with all the children selling postcards, models of the Taj Mahal, beads and other unbelievable trinkets. I could forget about a nice and quiet walk. I had demonstrated that I was a weak person and did not act decisively enough. I was weak, very weak. The old man who was still at my side suddenly leaned over and asked: "Why don't you want to take a ride on my bike when all foreigners want to? Nobody walks through here. They are all in a hurry."
Oh, how proud I was of myself. "So my transformation is already beginning. It looks like I am slowly starting to be different from the run-of-the-mill tourists. Even he, that wise old man, noticed," I praised myself in spirit and stepped up to the main gate of the fenced-in complex, in the middle of which the "building of buildings" proudly stands.
The high entry price couldn't shake me, since I am here for the first and maybe also the last time. I paid and went to read the information panel. I learned that tomorrow, being Friday, was closing day. And darn it! I don't have my camera. It will be dark in an hour and I won't have a photo! So fast now. I have to find a bike. But where? I stuffed a roll of banknotes into the hand of the nearest cycle rickshaw driver, shoved him off his seat and pedalled off by myself back to the hotel. I was racing with the wind. On the way I enountered the old man. He was walking with deliberate steps, pushing his bike. ZOOOOOOM! I went by him, hoping he didn't see me. I jumped off the bike, ran into the hotel, wrapped the camera around my neck and ran back. I looked like a madman. I tore down the gravel path through the park and caught the old man's pitying gaze. "So that's how someone who claims that he is not like other harried tourists acts," I read in his expression. I jumped off the bike by the astonished rickshaw driver who was still trying to get over the shock that some foreigner had grabbed everything he owned as well as the source of his whole family's income right out of his hands. He was so appalled that he hadn't even managed to call the police. I thank him as I run off to the gate. They close in an hour, but it is already starting to get dark. There's no time to lose! I race inside. But wait, the gate control finds I have a mobile phone on me. I can't go in with that. But now what? I am shown to a wooden ramshackle shack where a sign on a weatherworn untreated piece of wood, likely painted with a finger, announces that this is where the mobile phone depository is. I am offered a soiled tag with the number one scratched on it for my mobile phone, my only link to home. This can't be possible! I can't do that!
"And if you want to use our depository's service, please keep in mind that it will cost you five dollars and don't forget that we close half an hour earlier than the rest of the complex. That means that if you come and I am not here anymore, you can come by on Saturday or Sunday. Tomorrow it is normally closed and there is also that strike. Nobody knows how long that is going to last."  At this moment I know exactly what it means to be caught over a barrel! I exchange my telephone for the token, I even have to pay for it, and race for the entrance. The sun is touching the horizon and my fight with time is beginning. Or more specifically with the depository. The idea that I would have to rot here for several days because of my telephone does not appeal to me at all. "And what was that he said? What strike?"
Ach, that religion!
'The name of this game is Sansara, a game for children, a game which was perhaps enjoyable to play once, twice, ten times – but for ever and ever over again???'
(This is the first of the passages from Hermann Hesse's book that I noted in my diary.)
It is morning, and once again I am overcome by a state of total depression. Yesterday was quite a day. I fled from the punters from the surrounding restaurants and bars and the sellers of all things sundry to my basement. But instead of sleep I found suffering. The construction workers were billeted in the surrounding rooms and they simply didn't want to sleep. And the rooms were not separated by a partition all the way up to the ceiling. I hadn't noticed that before.
I am awfully homesick and once again I have to force myself to do the slightest activity. I am not hungry or thirsty, though I have already lost about 5 kilograms. I miss all my loved ones. Here it is again! I am lying scrunched up in the "foetal position" on the bed and my whole body hurts. How can I endure this? Is a person able to suffer through this without any effects? How long is this going to keep recurring? Or is it all about those effects? I realise that I can withstand a lot, but it is getting to be pretty bad when everything around me is against me and I have the feeling that I hate it here.
"Now you have to get up and go wash yourself! Now prepare some tea. It is important! And now those biscuits. You have to eat something!" Over and over again. "And also a train ticket, that is also an important point for today's program."
I leave the hotel and notice something very strange. The streets are awfully quiet. I look for a rickshaw, but none are to be found. All the stands in the vicinity are closed. I return to the hotel and learn that the Muslims declared a strike in support of their brothers that perished in the street fighting, and that it affects everything. And woe to he who violates it. "But I am sure the trains will be running…" I say with hope in my voice.
I walked across the entire city to the station building and the idea of dragging my two suitcases doesn't mollify me. Of course the train is sold out. My name is taken down on a "waiting list" and right before departure I will find out whether I am going or not. I skip the tour of the town and go back to my room. I am free until the evening departure. I try to amuse myself by reading.
'His son had not brought him happiness and peace, but suffering and worry. But he loved him, and he preferred the suffering and worries of love over happiness and joy without the boy!'
I write another point, Hermann, in my diary. I read on.
What doesn't kill you makes you stronger
'Deep in his heart he felt love like a wound and he felt at the same time that this wound had not been given to him in order to turn the knife in it, that it had to become a blossom and had to shine!'
I feel that this quote could be the key to the battered state of my being.
I get up and start packing. A walk in the dark to the train station and then maybe a train to Gorakhpur await me. If I am lucky…
I arrived at the station under a cloak of darkness next to a bribed and scared rickshaw driver of Hindu faith who sometimes took me and sometimes acted like he had never seen me before, depending on the situation we currently found ourselves in. We went all the way around the city, sometimes on field paths, and we even forded a creek so that we wouldn't be caught by the watchmen that were guarding the adherence to the strike order. We succeeded. And now for that ticket. The empty, barred ticket window at the station yawns at me. It is already nine thirty in the evening, I think to calm myself down, though I know it is not due to the late hour. The strike has ultimately reached here, too. If this had happened yesterday, I would probably have broken down. Today, however, I feel stronger. It is as if a tiny flame started to flicker somewhere inside. I see that some kind of new strength is starting to awaken inside me. I no longer doubt that I will get a ticket, I stop thinking about whether that train will even come. I sit down on the platform next to other people keeping their hopes up that they will be leaving town, pick up my diary and start writing.
'That overflow of love that I felt to my loved ones and couldn't direct to them since they were not able to return it, had to be suppressed. This was because I had forgotten to love myself as well. To allow some of it for me. And it is only through oneself, by realising this fact, that it is possible to better control and direct things to where they should go. It is not an expression of selfishness, quite the contrary; it is a method of giving to others through oneself.
I wrote into my diary that evening.
That lizard that had made itself at home in my bag and then rested a while longer on my folded pants on the bed in the hotel in Agra was a harbinger. A harbinger that brought me hope that things would turn out for the better. I realised that the moment I set my eyes on it.
And then everything started falling into place.
It is interesting how differently a person reacts to an adverse situation.
I did get a ticket with a seat reservation to Gorakhpur, though for the same couchette as one older corpulent Indian woman who immediately occupied it. There was no way I was going to get even a slice of the bed to sit on. I appreciated the bureaucracy of the Indian railways when I was required to fill in my age and sex on the form that had to be completed and submitted with the request for a seat reservation.  "I guess it is so men and women won't be travelling in the same coupe," I originally thought to myself…
But, much to my surprise, I was not taken aback by this new situation. I waited until the conductor came, told him what the problem was and he put me into a different coupe that was free. Then a delightful 16 hours of sleep awaited me until my arrival in Gorakhpur. How simple! No anger, feeling of injustice or stomach problems.
I transferred from the train station to the nearby bus station. One bus was just about to leave from there and was packed to bursting, though a barker, or helper to the conductor, was constantly looking for more and more passengers. Seeing that he was relentlessly crying SONAULI, SONAULI, I succumbed and jumped on. Sonauli, a small settlement on the border with Nepal, was right where I was heading. I was seated in the first seat right behind the access door, a seat originally meant for the conductor or for alternating with his barker. I appreciated their helpfulness. It wasn't until later that I came to understand. For a full three hours until we reached our destination passengers jostled past me to get in or out and back again. For part of the trip I had a couple of them on my lap. So what? The door was open for the whole way and it was raining part of the time. I was terribly cold and since I was travelling only in a short-sleeve shirt the barker noticed that I had goose bumps on my arms. He got quite a kick just from the fact that my forearm is quite hirsute. But when he noticed that my hairs stood on end when the door opened on me and then settled when he closed it he was fascinated. He also showed this trick to his colleagues – the conductor and driver. It was quite a situation… I made no show of noticing, however, and smiled pleasantly and he got bored with it in short order.
The need to "cross the river"
I made my next diary entry two days later. By that time I was already sitting in a small family hotel in the town of Bhairahawa on the Nepal side of the border. The hotel was named Shambhala. The name itself symbolises a place of repose, a small kingdom hidden somewhere in the unknown in the inaccessible Himalayas. And that is how I felt in it.
I already knew that I had hit rock bottom and I couldn't imagine anything that could surprise me. I was enjoying each and every moment and had something to look forward to. Today I am going to the very birthplace of Buddha Sakyamuni. Will the visit to this site be the definitive turning point of my "journey"? I think back to the question that I had recently asked myself: "Is it possible for a person to suffer through this without any effects? Or is it all about those effects?"
I prepare some Cheng Hao black team and savour every sip of it. I look forward to the new day and also finally to some of those "effects". And that's precisely what I get.
The day is right out of the film Little Buddha. And that site, the countryside, is precisely the way I had imagined it. I go out there in a small bus that sets me down a short ways from the place where, on 8 April 642 B.C., one of the most important events in human history took place. It is hard to believe, but apart from a few villagers there was not a single tourist on the bus. Nor were there any souvenir stands. Young monk boys are playing with a broken wheel in a ditch by the side of the road. Their game reeks a bit of bullying since the older ones do not let the younger ones push it. But it is not my place to get involved, is it? I come closer to a small brick structure that is used as a dormitory for the monks (it really cannot be called a monastery) and my gaze alights on the woven orange cap of a sitting monk. I can see that he would like to have a few words with me. So I sit on a bench and listen to the legend of the magnificent Maya who one day gave birth, while holding on to a branch of a tree, to a boy who received the name Siddhartha. I know the legend inside and out, but still I let myself be carried away with the tale! It feel like I am dreaming. How many times in his life is a man at the right place right at the time when he is perfectly in tune, so to speak. I gather up all the omnipresent energy inside myself and don't care that I am walking among mounds of dirt from the current archaeological excavations or that the statue of Buddha himself is covered by rusty corrugated iron. I am savouring this curious feeling – RIGHT HERE AND RIGHT NOW!
I really don't want to part from this imposing place, but I have to. Tomorrow I am already speeding off to Kathmandu, where further obligations await me.
'Do not give in to desires you do not believe in. Either you manage to give up these desires or you or else you have to desire them consistently. As soon as you will be able to ask so that you yourself will be sure of fulfilment, then it shall be fulfilled. But you desire something and then you regret and you fear this. This all must be overcome.' 
Hermann Hesse writes.
I can see the bus arriving in the distance between two fields. It is clear that I will not be able to reach the stop at the crossroads, even if I run. I also know that another will leave in about two hours. So I say to myself: "Let's try something and see what happens." I walk on at the same tempo and wish, very intensely, for the bus to wait. But I don't even really have to wish for it to wait anymore. I am simply certain of it. I continue to walk at the same speed and see how the bus stops, people get off, people get on. I still have about 800 metres to go. "No, I won't give up. I won't run or even wave, he'll wait," I tell myself. The driver closes the door. But then he opens it again, goes to the motor, lifts the cover and pours water into the radiator. He closes the motor, sits back in his seat and closes the open door. But I am already sitting inside next to a young Swede who is heading to Varanasi in India. "Now that was a neat trick that you pulled off," I wrote in my diary that evening. And what about tomorrow?
I learned from the young Swede that the Belarus hockey players eliminated team Sweden from the World Championships. What is our loss to Russia in the preliminary round compared to that? But at the same time I learn of another, no less important piece of news. Intensive fighting with groups of armed Maoists has broken out again in the mountains on the way to Kathmandu. The King issued a decree that no one may leave populated areas after dark. He prohibited any night-time transportation in the country and informed all tourists that they are a tempting target of Mao terrorists, who would take them hostage to exchange for their captured warriors. In short the notice meant that I would not be getting to Kathmandu anytime soon. But I believed I would go there, and bright and early the next morning in fact.
I learned from the receptionist in the hotel that no bus ticket is available because the bus will most likely not be running. The one that was supposed to come in the evening from Kathmandu didn't, and nobody really knows what is actually going on.
"Just wake me up at dawn. I am going," I told the receptionist and he quietly marvelled at the certainty with which I informed him of this.
The journey to Kathmandu was not pleasant and, what's more, it was long. But so what? Soldiers controlled us at about ten places. We had to exit the bus, take our luggage and cross to a designated zone so that the thoroughly-inspected empty bus could come to us. But we were there that evening! Kathmandu! Its not a city, it's a swarm. Crowds of people surge from all directions and there are shops with trinkets, knick-knacks, brass statuettes, wildly colourful woven wraps, Tibetan carpets and incense sticks everywhere. "And what about that tea? It is time for me to revive the commercial half of my trip," I tell myself.
Pretty doesn't always have to mean good
The catchy packages that are available in the markets promise, but do not deliver, quality tea. They generally contain tea from low altitudes and second-rate grades.
There are few tearooms in Nepal and they are generally places to relax just like elsewhere in the world. But they are not the typical stone temples of refreshment we have, but more like small bamboo or wooden stands, where they prepare tea over a fire or on kerosene cookers. Only strong black CTC or BOP prepared with milk is served here together with simple biscuits or cookies.  The paraphernalia necessary for its preparation is the same in Nepal, India, Sri Lanka and Bangladesh – a large saucepan for cooking, a strainer and a teapot.
I was not pleased by this discovery. I didn't drag myself all this long way just to find out that there is nothing of note here.
I meet up with one businessman, a local boss in the tea trade, just to learn that Kathmandu is not the right place to buy quality tea.
One of the biggest problems that is slowing the development of today's Nepal is the poor, if not almost non-existent, infrastructure. Telephone connections are rare, electricity is only in the larger cities and the roads are in poor shape. The entire country is connected by one roadway which is called the Mahendra Highway, and it runs down at the foot of the Himalayas. If you want to get from one place in the mountains to another, whether in the east or west, you have to go down and then up again. And it also happens that in one valley, which has, say, excellent conditions for growing mandarin oranges, they also sell mandarins there, but in the next valley over they have never heard of them. The same can be said about tea. Tea is grown exclusively in the eastern part of the country by the border with India's Darjeeling region and there is not the slightest reason to transport it to the capital city, from where it could only be exported by air anyways. And so the main city of the Nepal tea trade is India's Calcutta.
But quality is grown in Nepal, of that I am sure. I only have to go to a "different address". And that "address" is the westernmost valley projecting in a northern direction, parallel to the border dividing West Bengal and Nepal, called Ilam.
Even though the first tea garden, Ilam Tea Estate, was established in the city of Ilam way back in 1865, the tea industry has not seen such development as in neighbouring India. There is no tea exchange in the Kingdom of Nepal, no institution similar to the Tea Board of India exists and the tea sciences cannot be studied at any of the universities. And since there is an absence of any tea "research institute" or "school", the peasants breed tea and cultivate the tea seedlings themselves, or smuggle them in from India. I learn this from the local tea boss.
In order for me to verify the information in practice, it will first be necessary to buy a plane ticket and be carried on the wings of Buddha Airlines a few hundred kilometres to the east to the city of Biratnagar, where there is a small airport. There the manager of Ilam Tea Producers is already waiting for me to invite me to the mountains. To their plant just under the peak of Antu Dada.
What would you like for dinner?
While an asphalt road crosses the Ilam valley, if you want to turn off it you will have to use the services of one of the all-terrain vehicles. During the rainy season the higher-situated sites can only be reached by horse. And the access road to the plant in the Antu Valley is one of those that is impassable during the monsoon season. In the town of Ilam we switch from a car to an older Range Rover and turn off between some buildings onto a rocky road. After driving for another hour I realise how huge the difference is between this part of Nepal and the Darjeeling region in India. Both of the valleys are side by side and have exactly the same atmospheric conditions. The soil composition and the altitude are the same, and India is still considerably further along in development.
The reason is simple. For fear of losing control over the outlying areas, Nepal's rigid government has essentially prohibited any economic activity. It reserved the right to issue a licence for everything. Local farmers, however, took inspiration from their Indian neighbours and planted young tea plants that they smuggled in from Indian tea nurseries on their land. But since it was not possible to process the harvested leaves on the Nepalese side and nobody bought the crop, it went back to India by the basketful where it was processed and sold as Indian tea. The border is not that well guarded because both countries get along relatively well. It is evident that eventually even the stupidest state official had to realise that this method of doing business was not that advantageous and so the "ice started to break".
Ilam Tea Producers Pvt. Ltd., however, was founded in 1998. It built two large plants for processing tea leaves at the elevation of 1650 metres and it purchases tea from roughly 400 private farmers. They started growing tea relatively recently. The oldest gardens are only 20 years old and are planted with quality tea bushes such as Clonal.
Tea growing is now legal and the handsome rural buildings situated among the tea gardens testify to the fact that tea growers are doing well for themselves.
It is getting dark and we finally arrive at the Antu Dada plant. The gatekeeper opens the gate and does not conceal his surprise over our arrival. It seems incredible, but they really do not have a telephone here. The electricity is provided by a diesel generator and that only runs when the factory runs. Otherwise it is dark here. When I came the harvest was not up to full speed and the leaves were only picked three days a week. And I had the misfortune of "hitting" the down time. I ultimately was not that disappointed because when touring the factory space I discovered that the processing technology did not differ from that used in India at all. And I had the opportunity to experience the Indian technology many times.
What really struck me, though, was the question posed by the manager that accompanied me. "And what would you like for dinner?" he asked in the utter darkness as soon as we were sitting in a small glass arbour and the Range Rover driver left to look for candles. I was a bit taken aback by this question. "Oh, I don't know. What would I like?" I replied modestly. "And how about a hen? Just a moment," he said and departed. In a moment I heard some steps in the dark and the lights of our car came on, lighting the bushes next to the tea plant's entrance. "Come quick and choose which one," I heard. And sure enough, several hens about half the size we are used to from our rural coops were crowded together under the bushes, probably asleep. "Well, that one then," I pointed to a black one. The driver grabbed it……, I soon heard him chopping some wood…….., and two hours later we were eating.
That evening was seared into my memory. I was in a place from where there was no place else to go. There was nothing to do there in the dark and the cold. There was no electricity, no television, internet or mobile phone network. And so I only sat and watched the stars and the twinkling lights that lit the Thurbo T.E. processing plant on the opposite Indian side. Before lying on the wooden pallet my guide said that if it starts raining tonight, then we are not going to be able to get out of here…
"You can't get me with such horror storied anymore," I said to myself and fell contentedly to sleep without any worries about it actually starting raining in the night. My return airline ticket would likely be forfeited and I don't know what would happen then.
The student becomes the teacher
Everything turned out as it should. Of course. In the morning we descended to the town of Ilam, where we visited another Ilam Tea Producers processing plant, but again with the same result. Tea leaves were not being picked that day. And so I accepted an invitation down to the lowlands where lowland tea is grown, the taste of which could be compared to the Indian tea from the Doars region. The reason is simple. On the slopes of the Himalayas in West Bengal, just like in these eastern reaches of the Kingdom of Nepal, tea flourishes that is not the most elite of teas, but thanks to the multicoloured packaging from various materials as well as the many added aromas or spices, it has become the most prevalent of the teas. It is precisely this nameless tea that is offered in countless kinds of boxes, bags and colourful pouches.
These lowland tea gardens, which were established under the supervision of state officials (often in collaboration with experts from the brotherly Soviet Union) and which are still frequently held by the state, are not even abandoned in the wintertime when the tea is not picked. The bushes have to be pruned, cleaned of garbage that drifts in and fertilised. The harvest of leaves in these areas begins around March 15th.
I made my goodbyes and returned to Kathmandu on the wings of Buddha's airline. In the plane I realised just how much important information I had received. I thought about what a malignant impact a country's bad political orientation can have, even on ordinary farmers cultivating their rocky fields in the inaccessible valleys on the slopes of the Himalayas. I put the pros and cons of the British colonial policy on the plates of this imaginary scale…
I awoke when the airplane was descending to the airport. The Bodhnath complex's main stupa, which is one of the largest in all of Asia, loomed down below me. It bears the name Khasa Caitya and it allegedly holds the remains of a Tibetan lama of the same name who died on his pilgramage across the Kingdom of Nepal.
"So I also have to take a look at that down there. And not only there; there is so much to see in the capital city," I thought to myself and started to mentally plan the program for the next three days that remained to me in the city.
On the second day I had a meeting planned in the nearby city of Bhaktapur, only 16 km away from the capital. As fate would have it, before I left Prague I met a very nice and self-confident woman who was a doctor of psychology. Not only had she studied classic medicine at Charles University, but she had also pursued alternative medicine with a specialisation in homeopathy. She was also very interested in Buddhism and she particularly surprised me in how naturally and confidently she talked about the very innermost of themes. About love, faith, self-confidence, moderation or the Middle Path, which leads to the highest of goals. About things that I only dared to think about in solitude and only when I was feeling particularly strong. It was right before my departure to Nepal when I learned from her that she would be there at the same time I would. And so nothing could have been easier than setting a time and place. Oh, how sensible I was when I proposed that I would seek her out instead of waiting for each other somewhere.
The doctor's job was to oversee the operations of a homeopathic clinic built through the aid of international organisations in Bhaktapur, and at the time it didn't seem difficult for me to visit her there. It didn't take that much effort and sometime around four in the afternoon I knocked on the door of her office. As is usual in this land, the door was opened by an armed guard who did not let me in. He said the doctor was busy and finished at five. The waiting room was full of people and so I didn't put up any resistance and went for a walk in the neighbourhood. It was about a quarter to six when I spotted someone come out that was more like a shadow of the person I had known in the Czech Republic.  The doctor had hit rock bottom. I could see that right away. I didn't need any special education to spot that.
I proposed that we go for a walk through the ancient streets of Bhaktapur, the historical centre of which is listed by Unesco and known as an open-air museum. I also suggested going to sit somewhere and have some tea. I had a feeling that there was a lot to talk about and it wouldn't be me who would be needing cheering up.
And so I gradually found out that the farthest the doctor had ever been in her life was Eastern Germany. That she had no experience in travelling in Asia and that she was not capable of finding her way around the country. That she had to spend the first night upon her arrival in a hotel because she had arranged to meet the person who had set up her accommodations on a busy square where there were so many people that they simply did not find each other. That she is not that sure of herself and that she is awfully homesick. That she can't even eat because she constantly has digestion problems and feels like she can't handle it anymore. That the clinic is rife with corruption and that the local doctors had only created an extensive clientele with the money from the international funds. But these clients were led to their own private offices. She started to cry…
Where was that self-confident, emancipated woman that I remembered from Prague?
Suddenly it was clear to me that life isn't only about being up and being down!
Or actually it is; sometimes you are down and sometimes up, but where is down and where is up? How do you recognise it?
Is a person who is in despair from his solitude, without his friends and loved ones, down or up? He himself has the feeling that he is down. But what if it is thanks to this state in which he finds himself that he experiences a turn of events that makes him independent, resilient and experienced. Isn't this reaching the top?
Is a person who is surrounded by love and abundance truly up? Or is he only in artificial hibernation, preceding a hard battle for a place in life, which he is not well-prepared for. Is this half-dead state the bottom?
I really realised, when travelling around India and Nepal, that it truly only depends on the perspective that the person looks at the situation from. A height can become a depth all of a sudden and darkness the sweetest of nectars!
I also came to understand that it is enormously useful to try to consciously see important situations from the other side. Sometimes it is difficult and it can often also be very unpleasant, but in doing so you can avoid Sansara, the carousel of cause and effect. What does it matter that sometimes it is this carousel itself that we are searching for. It is good to know about the causality of effects.
My other experience was that some people have more of a calling than others. These people have to undergo ordeals and look for solutions and enlightenment. It is not about adrenaline or risking ones life in dangerous situations. It is an active search for answers. For some an active search can mean searching through books, for others a constant fickleness in personal relationships. Whether it concerns searching in interpersonal relationships, in encyclopaedias, in lectures or in study halls, all of these methods can one day stop being a full source of knowledge. Progress does not come, the person is going in circles. Of course all sources of knowledge can be combined in all kinds of ways. But I think that, no matter what, there logically comes a time when it is necessary to get up and cross that river.
I do not claim that this symbolic crossing of the river is a guide for notorious debtors to borrow even more.
Nor do I think that a person, disappointed by his family ties, should get divorced.
I don't think it would make sense for a workaholic, longing for success, a career and money, to become a monk all of a sudden.
This "crossing the river" of mine is only the view of a "Thing" from the other side. The essence of the thing is not changed by this view. A river always flows from the source to its mouth in the sea. But a person sees it from the other side.
And this is what I told the doctor. And that's not all. I read to her from my diary. I described my experiences in India.
When we said goodbye to each other that evening, I had the feeling that I had pulled a drowning person out of the waves of a raging river.
I fell asleep that evening with a good feeling that I had helped somebody and that my journey for tea and to Nepal had also achieved this unexpected dimension.
I smiled blissfully and tried to sleep, when all of a sudden I realised that I don't even know which riverbank I had helped the doctor to reach. That evening it occurred to me: "Did I help her onto the opposite riverbank or did I pull her back onto the one from which she plunged into the current?"
I have not seen her since then, so I do not know.