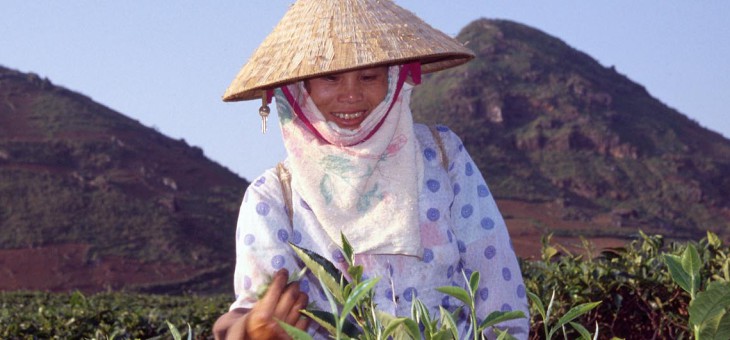 To find  any tracks leading to tea production in a country like Laos is really difficult, let alone getting to places where tea is harvested and processed.  The only lead which we had consisted of information about the company SOLIDAR MONDE S.A. from the city of Vitry on the Seine in France.  They allegedly import guaranteed real green tea from Laos and don't even conceal, in comparison with other importers, where it comes from.  Armed with the information, that on a 32 kilometer road from the city of Pakxe in the direction of Pakxong, one must stop and look for Mr. Long, we reached the conclusion that it was enough data for us to undertake an expedition to this mysterious country.

Honestly.  Based on local conditions, the above-average dwelling of Mr. Long, visible from afar, let us know that we would have the honor of meeting with somebody of importance.  AUNGLGA'S House was the right title for the house of a man who was perhaps instrumental in the development of growing and manufacturing tea in Laos.  Mr. Long, originally a citizen of neighboring Vietnam, a day after drawing enough experience in the Vietnamese tea industry, decided to move to Laos.  Here he founded the first-that-we -know-of tea gardens and produced the first tea.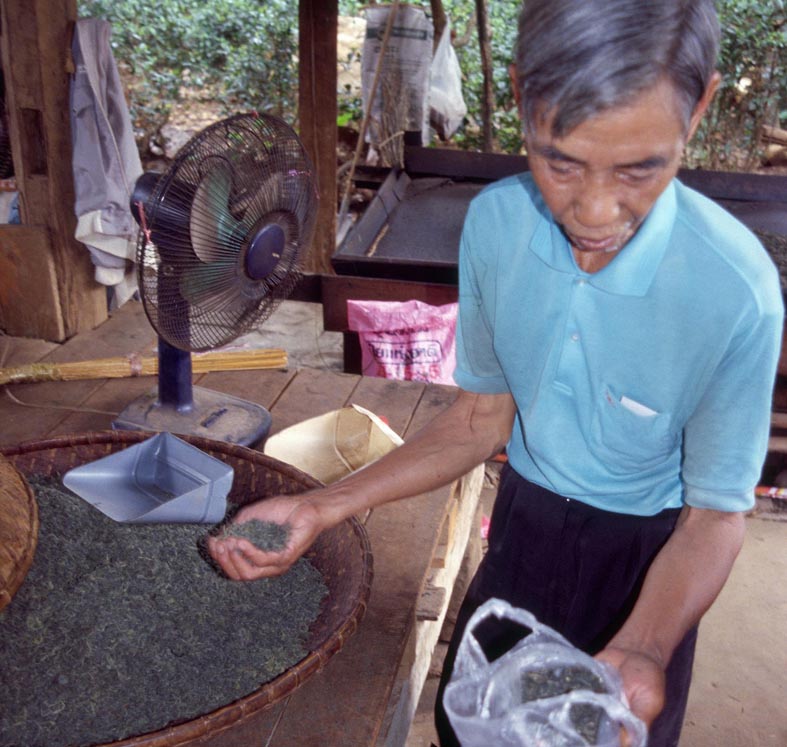 During the interview with Mr. Long, it emerged that it is not too complicated to grow and process tea in Laos.  The greatest problem is the question of selling.  He entrusted to us that he relies heavily on his knowledge of business contacts in Vietnam, and so is able to export the tea he produces.  In Vietnam, particularly in comparison to Laos, the culture of tea drinking is at a much higher level, and data on green tea consumption is many times greater than data on consumption in his local market.  Citizens of Laos don't belong, and have never belonged among renowned tea drinkers.

  The activities of Mr. Long did not escape the notice of the surrounding residents.  After all, to put any plant into the ground in this climactic zone is easy.  "And how Mr. Long picks and warms and kneads the tea leaves, even a small child can copy," said the neighbors who followed the tracks of the tea pioneer and began to imitate his activities.  On the 36 kilometers of the above-mentioned road, it is possible to see villagers, who on improvised tables, very inexpertly, with difficult-to-foresee-results, and covered in smoke, create balls from fresh tea leaves.

 And because it is difficult to estimate what the results will be like, instead of green tea, black tea sometimes appears at the end of the process.  And it doesn't just happen once.  "What can't be helped will happen, but after all, even then someone will probably buy."  In this way, the local producers of tea somehow performed for us.  On the 42nd kilometer we even found that the local producers had united into a company called "All Village", but even here the situation is complicated.  Quality tea is unstable, the results uncertain.  Managerial experience minimal, business contacts almost non-existent, and in comparison with their foreign colleagues, these producers can't rely on the internal market of the country.  We couldn't help but admire with what patience and devotion they undergo this pioneering fate.

We reached the main city of Vietnam – Saigon, and began to be a little bit nervous.  Despite it being March, it was very hot.  A completely normal phenomenon which we met on nearly every step of the journey was the drinking of cold coffee "on ice".
We could say that we didn't see a single person who would drink tea.  Afterwards, we understood something about Laos, that the country is not exactly a "tea paradise", and we began to fear that Vietnam would be similar.

Street sellers of tea however, gave us hope that the situation would be better.  They offered exclusively green tea, leaves and by the look of them – homemade.  On the green market we even ran into a seller of fresh green tea leaves.

The shelves of the food stores and assorted supermarkets buckled under the weight of colorfully packaged homemade teas and we understood that the situation was essentially different than in the neighbor – Laos. And with information about the developed tea industry, which we received from sellers, we set off for the mountain province of Lam Dong surrounding the city of Dalat.
And truthfully, the extensive tea gardens bordering the roads gave us a clear understanding that the growing of tea and its processing was very widespread in these parts.

A visit to the tea factory or Cau Dat should've been only a polite formality, nevertheless we ran into relatively stiff resistance.  We realized that the gold star on the red state flag wasn't only a nostalgic legacy of the past, but still a symbol of the hard reality which is socialism.  The gatekeeper decided that he wouldn't allow us behind the gate.  When I took out my camera, it looked like he would take out a submachine gun.  The luck in this stalemated situation for us was that just at that time the manager came and was very interested in these strange foreigners in shorts and baseball caps and what they wanted.  Socialist type tea factories received mainly, as a matter of principle, announced delegations in black limousines.  The most important part of the program was generally the food.  In the following spontaneous and relaxed social portion of the business negotiations, fat comrades with glasses of vodka remember as a rule, the times when thanks to central control of production from somewhere above, it wasn't necessary to work very hard and party loyalty was richly rewarded.  These thoughts came to me when I sat in the negotiation hall in revolutionary tradition.  We had something similar even in Czech when it was communist governed.
From the mouth of the manager we already knew that in Vietnam tea was made in a number of places, but that theirs was the best quality.  The worst was allegedly grown privately.  They didn't have experience or proper technical equipment and their tea wasn't worth much.  I would have liked to believe the manager which weren't even their own products?  I asked him about their own green tea production and was very surprised by his reaction.  The manager thought at first that it was a joke.  "Yes I have a number of samples," he confessed "but you know, I can't promise you anything."  I didn't know what to think and looked through the bags of green tea.  Some looked like quite ordinary tea for general drinking, but two struck me very much.  The tea leaves were very small, regular and rolled into half-moons.  I was fascinated by their silver reflection.  "This would be it!" I thought and showed him the samples.  The manager frowned.  "Don't pay attention to these.  They are designated for export," he said trying to calm me.  "Yes, but I am here because I want to help you export," I said with hope in my voice.  "But this tea is being exported to Korea," he answered.  I understood that this socialist beauracratic system was "for us a train that would not run", that it was better not to ask which of the two Koreas was it actually being exported to, and I said goodbye.
During our stay in Vietnam, we still visited other socialist businesses.  The private businesses could be distinguished from these at a glance.  For example, only because the tea plants were cut.  This kind of brutal treatment is completely unique.
One of these kinds of factories was built in 1959 in the city of Moc Cau of San Lon province east of Hanoi.  Here they could be proud not only of the quantity of tea produced, but also the variety.  Besides green tea, they also processed black tea and thanks to enterprising Taiwanese, oolong.  Complete machinery and equipment was exported from Taiwan and local supervisors came regularly to oversee the quality of the tea designated for the Taiwanese market.  For the rest of the year, they produced Vietnamese oolong.  We were sorry, but the tea there was not to our taste.

Our route led further to the north towards the Chinese border to the city of Sa Pa, which lays between extensively terraced rice fields under the tallest peak in Vietnam, called Fan Si Pan by the locals and measures 3,143 meters.
 It is true that the main goal of the trip to these places was not focused on tea plantations because of the fact that nobody had ever heard that tea could appear in these parts.  This gorgeous and difficult access to this corner of the world is renowned mostly because a large number of tribes live here whose members have for centuries lived the same traditional lifestyle.  They have built here gorgeous terraced fields, raise domestic animals and color fabrics in natural color – indigo.  On these fabrics they embroider beautiful colored ornaments and make from them national costumes which they sell, but also wear.
They invited us for tea!

A humble tea condition fit the conditions in which local people live and we had no choice, but not to be afraid.

As regards the source of green tea to which we were treated, we didn't have to be worried.  Behind the country house grew wild tea plants which were picked regularly (as needed).  The locals dried the leaves and therefore had ample supply.  Our road nevertheless continued on.

Perhaps 75 kilometers north of Hanoi the province of Thai Nguyen is situated whose capital city has the same name.  The place is quite idyllic with a very pleasant climate.  The hundreds of private teagardens with buildings planted between them gave us a very clear understanding, that here tea not only flourished, but also sold well.  For us it was a clear signal, that here we could wait for proper quality.  The blotch in this beauty exhibited to us was only the pink brick face buildings in "Vietnamese baroque" style.
The lady director, Tran Hong Tien, from the renowned private tea factory Hoang Binh Co., welcomed us with considerable embarrassment because we came unannounced and without a translator, but finally there suddenly appeared a secretary with a grasp of at least some business English and it was alright.  We left loaded with kilograms of tea samples and also pricelists, which we , in a wave of euphoria, didn't care for with much attention.  The tea was truly magnificent.
We came to Vietnam fearing that it would be a big problem mainly to find export quality tea.  Our imagination can be best characterized by this photographs.  "Pay for tea in dollars and take your tea in a basket on your back,"  as small farmers somehow imagined business in the environment of new developing markets.  But the reality was different.  Air conditioned offices, quality automobiles, computers, internet and electronic banking.  We left excited.
 "The trip had meaning!" we said after the return home and drank the samples of the imported tea.  Only that the prices seemed to us somehow high.  We checked electronically if there wasn't really some mistake.  The price of the green tea Che Xanh reached the level of the most delicate tea from Japan. We couldn't believe our eyes.  "No one would pay this!  Our customers wouldn't have the money for it!"  when suddenly – bang, bang – at the door stood a Vietnamese door-to-door salesman with tea samples.  "Don't you want tea?" he asked.  In his hand he carried packages of tea which we recognized with confidence.   They were packaged by the firm Hoang Binh z Thai Nguyen.  "Just come in," we invited.
 We did well that time.  The tea which he offered us was the same quality as that which we brought from Vietnam.  Only it was 5x cheaper and included transport right to our storage.
We didn't understand, but we made the deal.  Also we admitted that we were in Vietnam and tea, samples of which we'd brought back, were many times more expensive than his.
 "You know, we Vietnamese have to help each other.  And the prices between us are different than what we offer to you.  But this time, the people at home exaggerated a little…"